Note to readers: On a regular basis I evaluate the major B2B software markets to determine how companies in a particular market are positioned relative to each other. Here is my assessment of the Financial Planning & Analysis (FP&A) market.
Lack of differentiation is one of the most common problems in all the B2B software markets I follow, and the FP&A market is no exception.
Of the 15 companies included in this evaluation, 10 have a position similar to at least one competitor. The similar positions are in general terms: 1) enhanced decision making; 2) insights; 3) spreadsheet friendliness.
I determined each companies' positions by reviewing website home pages and several other pages (About, Product, Solutions, etc.). I look for the main claim, one that stands out.
What is positioning?
A position is the mental space in the target audience's mind that you can own with a benefit statement that solves a pressing business problem.
It's in this mental space where your solution to the target audience's pressing problem meet and form a meaningful relationship.
Since FP&A software provides the information users need to make decisions, it's not surprising that five companies have a decision-oriented position. See for yourself their positions in this perceptual map that makes it easy to see how all the companies are positioned relative to each other: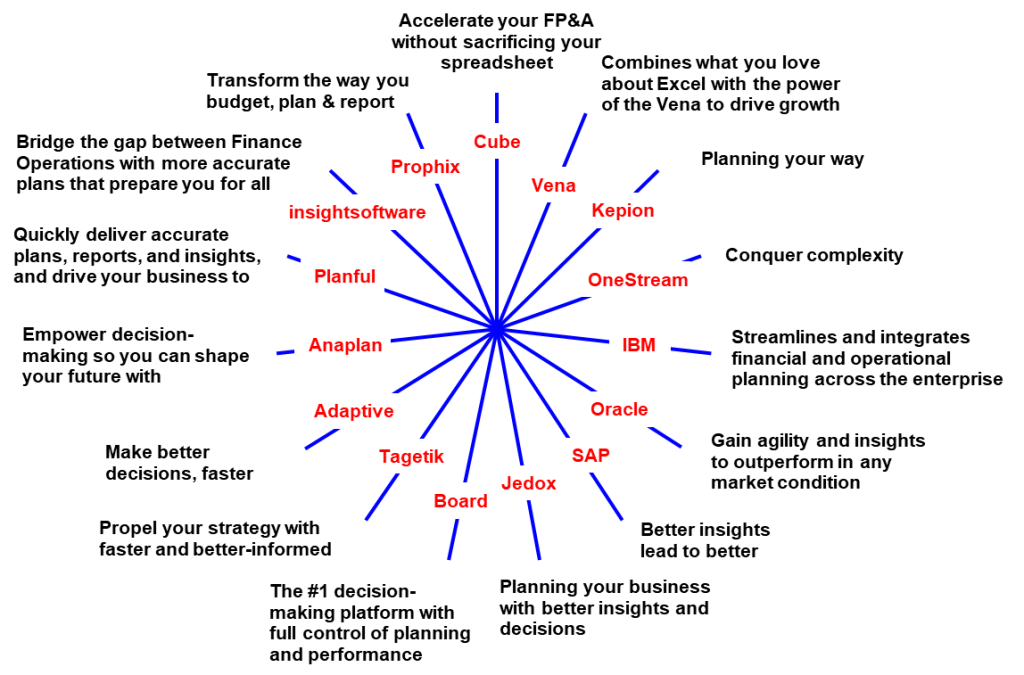 Since differentiation helps buyers make a decision faster, it is hard to understand why so many FP&A companies fail to do so. It is especially perplexing because everyone does positioning in public. All you have to do is visit a competitor's website and you can easily determine how they are positioned.
There are two trains of thought about why there is a lack differentiation in all B2B software and technology markets. One is that companies ignore their competitors' positioning. They don't evaluate competitors' websites and marketing communications.
The other is that companies copy their competitors' positioning. They do so when they see something they like or perceived it to be winning in the market.
No matter how FP&A companies enter the "sea of sameness," they are hurting themselves on the battlefront. Lack of differentiation creates buyer confusion resulting in long sales cycles, price wars or the dreaded no decision.
Two FP&A companies get differentiation right
Two FP&A companies are good examples of getting differentiation right – OneStream and Kepion.
I particularly like OneStream's position: "Conquer Complexity in Financial Close and Planning;" because it is short, simple, understandable language and it addresses a significant business problem. You won't find a CFO or controller who hasn't suffered through planning and closing the books.
Another important reason OneStream's position should resonate with controllers and CFOs is its simplicity. The decision-making portion of the brain only responds to short, simple statements because it understands just a few simple words, according to "Neuromarketing," a book well worth reading.
"Planning your way" is the headline on Kepion's home page and its obvious position. Talk about simple plus it indicates flexibility to meet any kind of planning requirement though that capability is common to all competitors.
But at least Kepion's position differentiates. No one else is making the "your way" claim.
Interested in learning more about how to differentiate? Here's link to a page on my website that explains how to do it: https://messagesthatmatter.com/how-to-differentiate/